In order to be able to use the plugin you are required to provide oAuth keys of your Vimeo APP and you must also fill your CodeFlavors plugin license key in order to receive automatic plugin updates.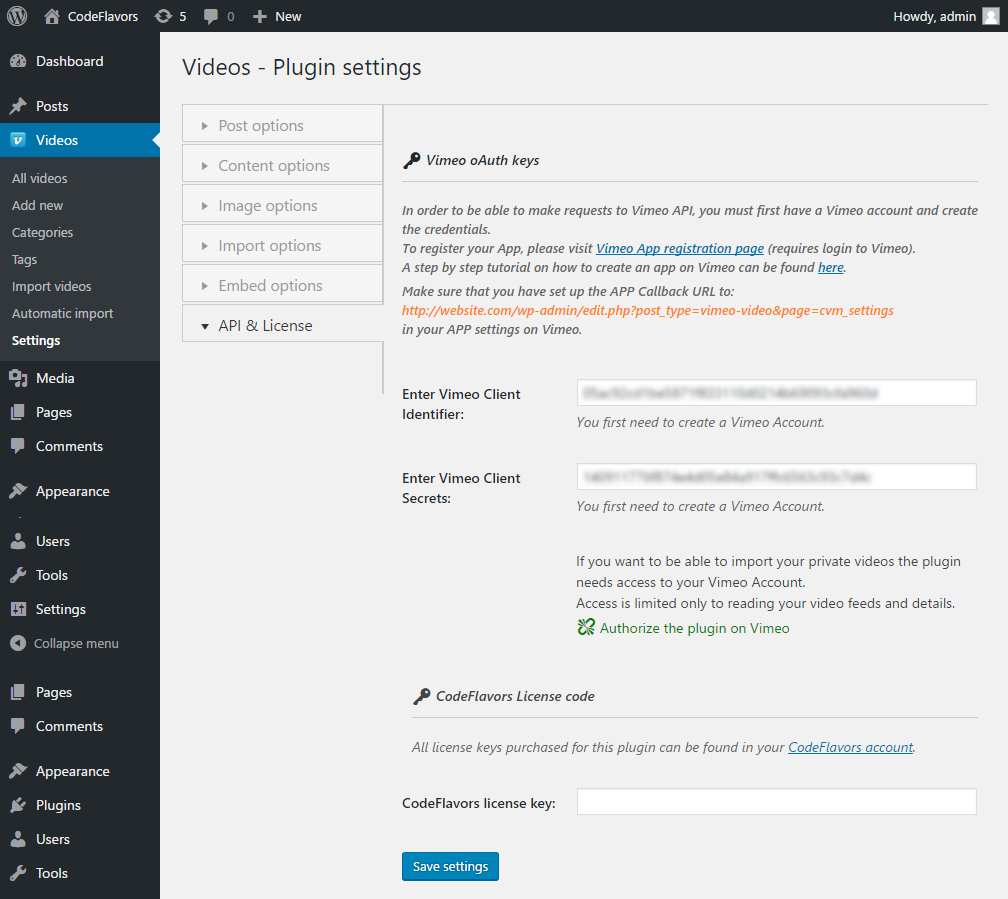 Vimeo oAuth keys
In order to be able to use this plugin, you will need a Vimeo account and must create an App on Vimeo that will allow the plugin to query for Vimeo videos. If you already have a Vimeo account, navigate to this address: https://developer.vimeo.com/apps/new
Enter only the required details into the form (marked by *) and submit. If everything went well, you will be presented with another page. Go to oAuth and copy the Cliend ID and Client Secret into the plugin Settings fields Vimeo consumer key and Vimeo secret key and save the settings. You will now be able to query videos on Vimeo using the plugin.
If you want to query your private videos, you will also have to authorize the plugin on Vimeo. After you enter the oAuth keys, you will notice a link under the Vimeo keys fields in plugin Settings page saying: Authorize plugin on Vimeo. Just hit it, allow the plugin to read your private videos and you're done.
Just remember to allow the domain where you host the plugin into your Vimeo video settings.
CodeFlavors License code
The license code is used to query CodeFlavors for updates. Once you purchase a copy of the plugin from CodeFlavors, you will have access to your license codes. Just enter the code here and hit save.
If you want to transfer a license code from one domain to another, first you must detach the license from the domain it's currently activated for. To do this first login into your CodeFlavors account. Once logged in, navigate to your active downloads and licenses. You will notice a list of license codes; for each license code you have the option to deactivate the license ( right column next to the license code ). Click Deactivate and you're done here.
Next, on your new domain (the one you want to activate the license for), enter the license key and hit save. Please note that if you already have entered the license key (ie. you see the message that says something is wrong with your license key), you must first save the license field with an empty value and only after you do this enter the license key and save the settings one more time.
Related