The plugin has the capability to bulk import videos from Vimeo from manual imports (you enter a search criteria and choose the videos you want to import) or automatic imports from different Vimeo channels, albums, users, etc. The settings below control how the import process should run.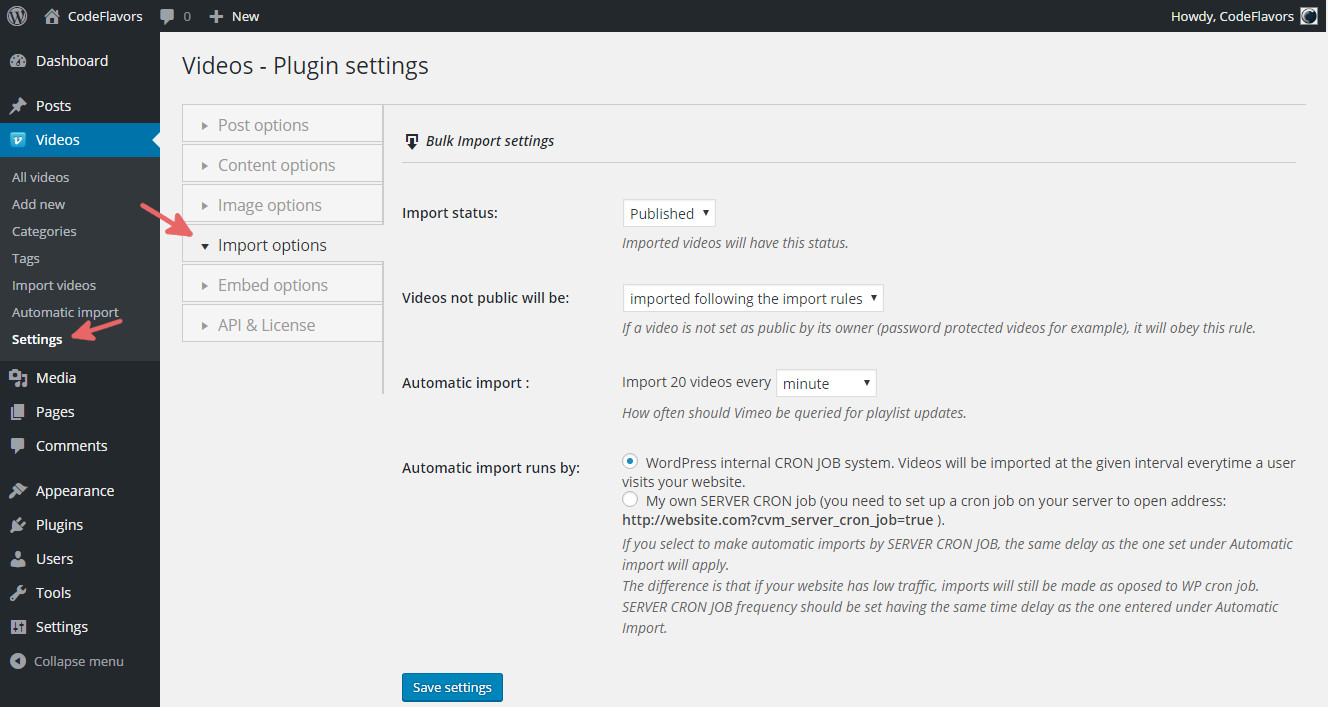 Import status
This option controls the post status of the posts created by importing videos from Videos actions. Possible options are: draft, published and pending. Whenever a video post resulting from a Vimeo import is created, the plugin will set this status on it. Very useful if you would like to first revise the contents of the post created before publishing.
Videos not public will be
Some Vimeo video publishers have the option to make their videos visible only on certain circumstances. For example, they can allow a video to be seen only if a certain password is inserted. This kind of video can't be embedded on other websites.
There are 3 choices to choose from:
Import following the import rules: videos not public will be imported just like any other video;
Import as posts pending review: videos not public will be imported as posts having status pending;
Skip from importing: videos not public won't be imported at all.
Automatic import
This option allows you to set up the frequency for automatic imports. Given that by default the import process is based on WP cron, if your website experiences low traffic the imports will be delayed.
Automatic import runs by
This option sets what will trigger the import action for automatic imports. Possible options are WP Cron and Server Cron. The difference between the two is the fact that while WP Cron is directly linked to your website traffic since the cron job is triggered by visitors, Cron Jobs are more reliable because they will trigger the auto imports regularly.