If you are looking to create a WordPress video gallery which is SEO friendly and offers multiple customization options, video gallery plugin (and video importer) Vimeotheque can help you set up a Vimeo gallery in WordPress and display it using either the video gallery widget, a video gallery shortcode with a visual interface for the Classic Editor or the video gallery block available for the Block Editor.
About Vimeotheque
Vimeotheque helps you import videos from Vimeo into WordPress by automatically creating video posts that are set up with all the necessary information:
post title,
post content,
featured image,
tags,
categories,
video embed and so on.
The plugin comes as a free version, which is available on the Vimeotheque WP repository page. The free version can be extended with the Vimeotheque PRO add-on, which brings features like automated video imports from any Vimeo feed source, access to PRO add-ons, import of private Vimeo videos and other.
Video Gallery Themes in Vimeotheque
All WP video gallery themes available in Vimeotheque will give you the option to customize the video embed and some video gallery themes will allow to set additional specific options.
1. Default Video Gallery Theme
The free version of Vimeotheque showcases 1 WordPress video gallery theme named "Default". The default video gallery theme will display videos into a list, with a customizable video embed displayed either on top of the list, left of the videos list or on the right side of the video gallery list.
2. Video Gallery Theme "Wall"
The video gallery theme "Wall", which is part of the PRO add-on, showcases the videos into a masonry styled display which optionally allows videos to be embedded into a video lightbox with navigation between the elements of the video gallery.
3. Carousel video gallery theme
The second PRO video gallery theme, Carousel, displays the videos into a carousel navigation under the video embed. Same as the other 2 themes, it allows auto play and video embedding options.
Video Gallery Block
Vimeotheque video galleries are fully compatible with the Block Editor, which allows you to see your customizations in real time, without having to save the post or refresh the page.
A quick demonstration of the video gallery block can be viewed into the following video.
Video Gallery Shortcode
For compatibility with the Classic Editor plugin, Vimeotheque implements a video gallery shortcode which allow you to customize the shortcode using a visual interface.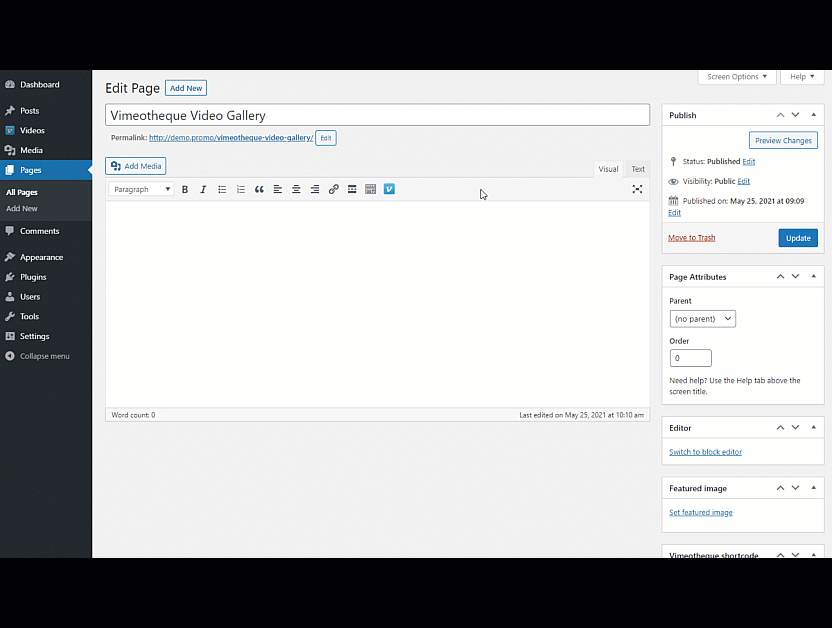 If you are interested in creating WordPress video galleries and look for a flexibile plugin, go on and try Vimeotheque!