A new plugin version has been released for premium WordPress video plugin Vimeotheque PRO. What is new in Vimeotheque 2.0.9?
Playlist theme Wall modal window playback
We improved functionality for playlist theme "Wall" to offer a better response to Mansory layout changes.
There's also new functionality added to the theme, which now allow video playback to be done in modal window, without the need to navigate to a separate page to view the video embed.
Post video import actions
Vimeotheque 2.0.9 comes with new actions after a video is imported, which include re-importing of the video title as post title, re-import of video description as post content and import of any additional tags added on Vimeo but not yet imported into WordPress.
These improvements are triggered by your website visitor once every 24 hours; the more attention a video post receives, the more it will stay up-to-date with the changes you make to it on Vimeo.
All settings for managing posts after they are imported are available under a new settings tab named "After import".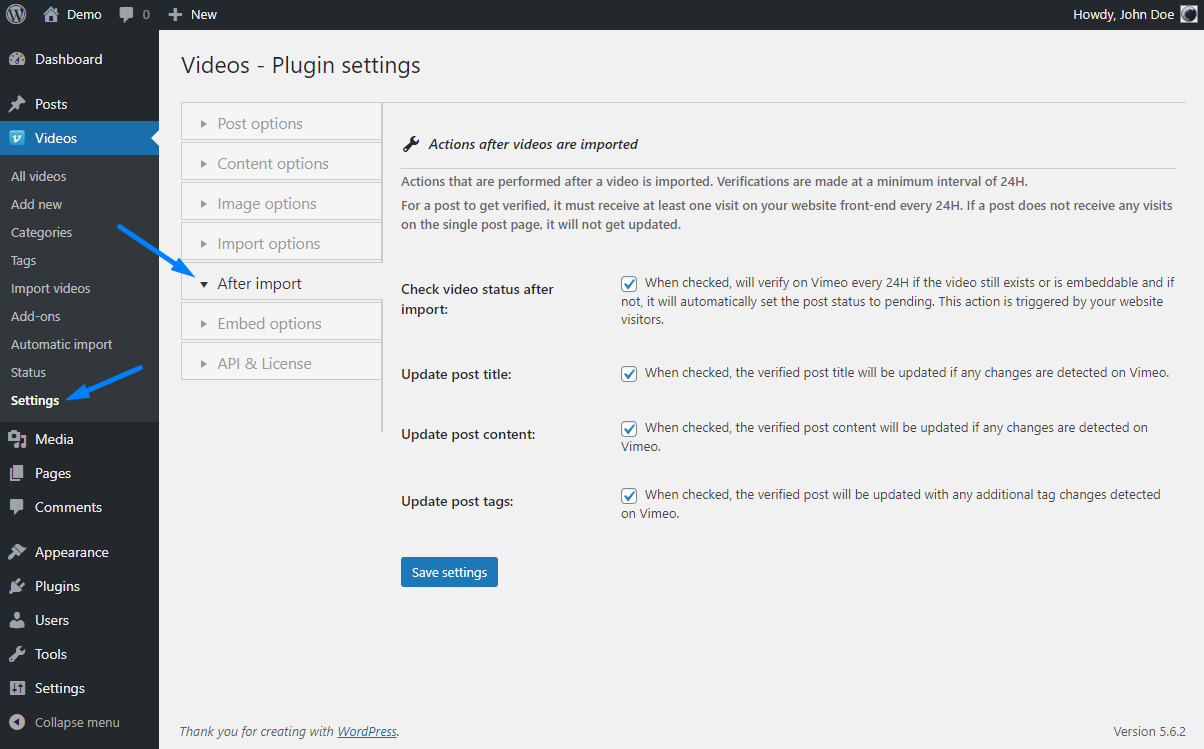 Vimeotheque PRO 2.0.9 changelog
Created new option for playlist theme Wall to play video in modal window when the thumbnail image is clicked;
Improved masonry layout displaying for theme Wall to better respond to image loading and window size changes;
Allowed playlist theme Wall thumbnails to be displayed into the list with the size ratio of the corresponding video;
Added new tab in plugin options for video management after import is made;
Moved option to check video status after import from tab "Post Options" into tab "After import";
Added option to re-import a video title after the initial video post is created;
Added option to re-import the video description into the post content after the initial video post is created;
Added option to import any additional tags set on the video after the initial video is imported.